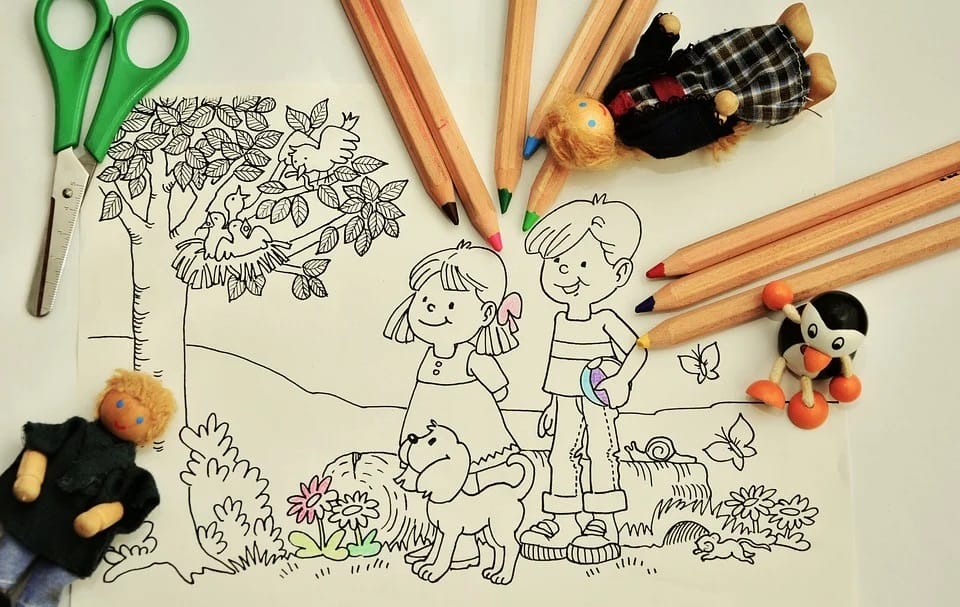 Your family spends too much time on the tablets and TV set listening to movies and series in Streaming? Combining usefulness and fun can be one of the goals of free coloring pages. Of course, coloring is actually a fun activity to attract children, but learning colors can help improve children's fine motor skills … Now it's time to show you the 10 most popular websites to find coloring pages. Printing can help prepare for Halloween and many other holidays this year. Our team offers you the TOP10 sites to print and color with your family for free.
Hugo l'escargot.com – The best site for coloring in family
The site hugolescargot.com offers a catalog of more than 14,000 color pages to print. Different themes are involved: animals, superheroes, etc. In addition, the site also offers games and activities for children of all ages. A real treasure found! Hugo the snail is part of the TOP10 coloring sites. Print and draw as a family.
Coloriage et dessins.com – Print and have fun!
This magnificent site of drawing to coloring, Coloriage et dessins.com, gathers all the emblematic Disney heroes who made our dreams come true and will make the happiness of your children: Snow Queen, Tinker Bell, Cinderella, Cars, Dolly, Nemo and even Star Wars. A variety of color pages are available for printing. In addition, the site also offers children games and entertainment activities inspired by Disneyland. It is without restraint, that we rank this site among the 10 best free websites for family coloring.
Coloriage.gulli.fr – Among the best sites of drawings to be colored
The Gulli Children's Channel also offers a variety of colorful drawings to print on its website. We have cartoon heroes like Peppa Pig, T'Choupi, Johnny Test, My Little Pony and many other famous characters are obviously prominent. There are also other colorful images related to other very different subjects: nature, animals, sports, trades and even maps. This site is the happiness of children.
An additional advantage is that your child will be free to choose a template to write a printable picture book, which is reasonably designed and easy to bind.
Buzz 2000.com – Print a multitude of drawings
Apart from Gulli, the TF1 group's youth project also offers printable color pages on its website. On tfou.fr, children will be happy to see their heroic cartoon characters such as Dora the Explorer, Paw Patrol or SpongeBob SquarePants. buzz2000.com/colorage-tfou
Petitscoloriages.com : free Sites to print
Petitscoloriages.com, you will meet a large number of models of colorable drawings for children and seniors. As its name suggests, the site offers a format as convenient as the new version: a large number of small drawings can be colored and printed on a single page.
Toupty.com : free Sites to print
This free printable drawing site, Toupty.com is a very interesting educational platform for children from kindergarten to university. Toupty offers a range of activities from coloring pages to dotted drawings. Everything can be printed. Tips to keep your child busy.
Pinterest : free Sites to print
Pinterest/coloring is the most popular social network that focuses on inspiration and innovation. A real gold mine, where you will find a large number of paints used in different coloring styles for seniors and children. Children's sketches, amazing landscapes, animals, roses and even immortal cartoon characters; everything is at your fingertips, just click on print. Pinterest, a world of drawings to discover with your children.
Teteamodeler.com : free Sites to print
This is a Teteamodeler.com website dedicated to creative leisure activities. Constantly updated to stay up to date, you will find all types of classic color pages to print, as well as works related to the theme of the day, such as current major sporting events.
Hellokids.com : free Sites to print
www.Hellokids.com is a website that will provide you every week with new drawings to color directly on your PC, tablet or cell phone. All this can be done with paint sprayers and downloadable applications. You can simply print. Hello Kitty, Pokémon, Barbie, Princess: a world of fairy tales your child dreams of, all fantastic.
Scrapcoloring.fr : free Sites to print
In addition to providing classic paint colors, the Scrapcoloring.fr site also has a special feature to convert magical images into coloring pages. Scrapcoloring.fr is the ideal website to design a personalized coloring page according to your child's tastes or imagination.
Tipirate.net : free Sites to print
The Tipirate.net platform offers color pages classified by subject and age. It also offers patience games and other cutting games for printing.
Here, you and your children have all the assets to make a success of the Halloween costumes and masks, as well as all the necessary weapons to have fun.
The benefits of playing as a family for your children.
In short, it has been a privilege to search for you the best free sites to print and draw with your family. We are always looking for activities to do with our children. Drawing awakens creativity and creates wonderful memories. In addition to having a good time, you will also help your child to make something real, small works of art to display on the fridge or at work.
TOP10 – FREE family printing and coloring sites
Do you have questions, comments or solutions?
Express yourself!